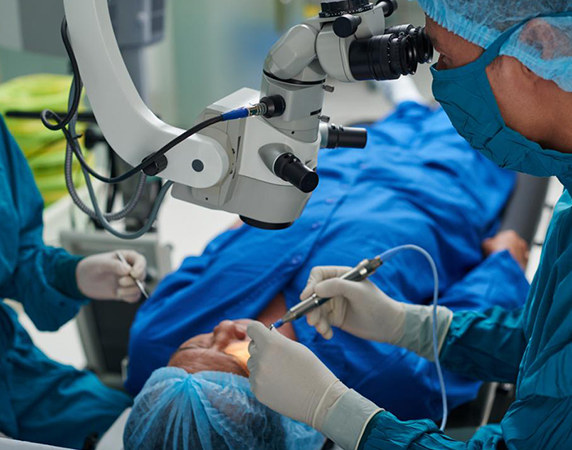 Fuad Makkouk, MD, is a Yale University fellowship-trained surgical retina specialist, and the Medical Director of Austin Eye Center. Dr. Makkouk provides cutting edge surgical interventions such as vitrectomy to his hometown of Austin, Texas. Vitrectomy may be indicated for a number of retinal disorders. To learn more or book an appointment call or schedule online today.
During a vitrectomy, Dr. Fuad Makkouk, will remove the jelly from the back of the eye called the vitreous. This allows Dr. Makkouk access to your Retina to provide whatever retinal procedure you may require. In most instances a Vitrectomy is performed on an outpatient basis, and anesthesia can be local or general based on patient comfort. Dr. Makkouk understands that surgery can be scary, so he takes every step to make sure you are comfortable.
A vitrectomy may be indicated for a number of retinal issues, and Dr. Makkouk takes the time to explain all of your options at each visit. Some possible indications for a vitrectomy include; Retinal Detachment, Macular Hole, Epiretinal Membrane, or Diabetic Retinopathy.
After vitrectomy, you will have an eyepatch over the eye overnight, which Dr. Makkouk will remove the following day. This patch helps to protect the eye and any small open incisions, as most vitrectomies do not require the use of sutures. Dr. Makkouk will also prescribe eye drops to help prevent infection and decrease inflammation, and will review how to use these drops on the day after surgery. Dr. Makkouk may recommend rest along with no heavy lifting/bending/or straining for the first week after surgery, but takes the time to discuss a personalized plan for each patient before and after each surgery.
Don't take any risks with your vision. Put your trust in Fuad Makkouk, MD a Yale University trained Surgical Retina Specialist, and call Austin Eye Center today or schedule an appointment online.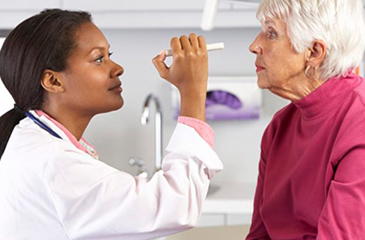 Macular Degeneration & AMD
Age-related macular degeneration causes cells in the macula (the central portion of the retina responsible…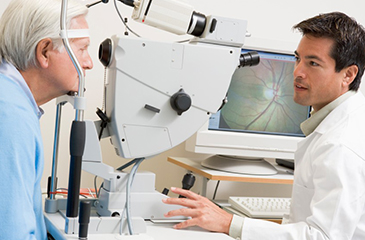 When Diabetes affects the eyes it is called Diabetic Retinopathy. Diabetic Retinopathy can cause vision loss…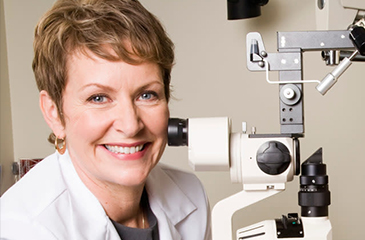 Regular screening exams are an important part of guarding your vision and health. Dr. Makkouk…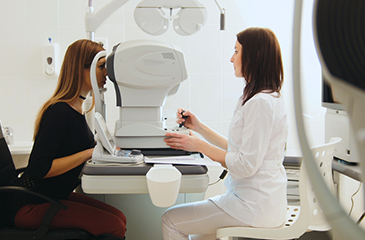 The retina consists of a thin layer of cells which line the back wall of your eye. The retina can be thought of…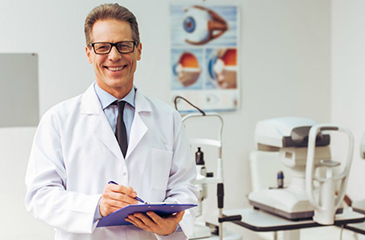 The retina is the thin layer of cells at the back of the eye which capture light. Retinal detachment can be…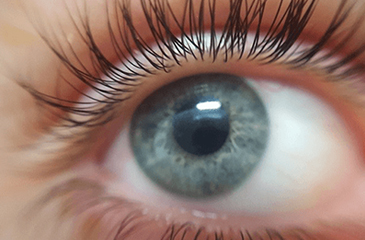 Floaters are very common, with most adults seeing them at some point in their lifetime…
Dr. Makkouk welcomes new and existing patients to Austin Eye Center.
To learn more, call or book an appointment online today.